Sorry this is so late. I had some technical difficulties.
After reviewing my research, I decided to change the waist of the apron. Aprons with casings and drawstrings were predominantly white and dressy. Earlier in the 18th Century colored silk aprons with embroidery were popular. By the 1770s, embroidered and dressier aprons were made from sheer linens and cottons. Work aprons were most often made of linen or wool, and were frequently made in dark colors, either in solids, checks or stripes. Work aprons were usually gathered or pleated onto a self-fabric or tape waistband. Narrow linen, tow, cotton or wool tapes were sewn to each end of the waistband as ties. Ties were long enough to wrap around the back and tie in front (or to the side of center, so there would be no strange bump at center front). There is some evidence for prints, but I can't say how common they were for the middle and working classes. As my brother's family reenacts the American Revolution, I chose to use linen in a dark brown with fine white stripe. I also chose to pleat and bind the waist with 3/4" linen tape with 1/2" linen tape ties. I made the ties with one longer than the other, to ensure that my sister-in-law will tie them off-center.
I chose to monogram the apron with Lynn's initials using a cross-stitch alphabet used in the Esther Coggeshall sampler, dated 1774. These letters remain the same in a sampler, ca. 1792, done by Martha Coggeshall. The first sampler is from the needlework school in Newport, RI and the second is from the school in Bristol, RI. There was also a needlework school in Providence, RI. Since we live in RI and are members of the 2nd RI Regiment, it makes sense to use these particular cross-stitch alphabets for marking our clothing.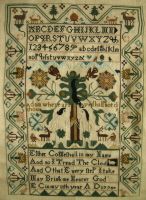 Esther's sampler is a little different than most Newport samplers but the sky is worked entirely in queen stitch and is identical in colouring and style to the one worked by her half sister Eliza. Esther was born on January 3, 1764 and was the fifth child of Billings Coggeshall and his first wife May Collin. She was eleven years old when she stitched her sampler.
The original sampler is in the Connecticut Historical Society, Hartford, acc. no. 1960-25-0
Stitches used in the sampler are queen, cross, cross over one, tent, long armed cross and stem stitch. Some freehand stitching.
Kits to reproduce Esther's sampler are available
here.
Martha Coggeshall (nicknamed Patty) was the third of five daughters born to William (1719-1796) and Margaret Munro (1744-1809) Coggeshall of Bristol, RI. Both Patty and her sister Polly are thought to have attended a school run by Anne Bowman Usher (1723-1793), which was in existence from about 1774 to 1793. Highly respected, the school attracted day students from properous Bristol families, as well as children of the wealthiest Providence families, who were sent to board with the Ushers. Samplers made at Mrs. Usher's school can be identified by distinctive black backgrounds, the figure of a musician playing a flute, and a long-tailed bird in flight. Martha's sampler is in the collection at the
Met Museum.
I first spotted these samplers when doing some research for Coggeshall Farm Museum. I haven't been able to establish with absolute certainty where either girl lived (besides RI, although, if I remember right, that at least on of them hailed from Little Compton, RI). I also haven't established if they were related to each other, or the Coggeshall family that lived at the farm around 1825. There were quite a few Coggeshalls in RI during the 1700s, and even when the first US census was taken in 1790, only men were listed by name (women were only counted as a category, with female children). The farm was owned by the Colt family and was always a tenant farm, hence why the museum was named after the Coggeshalls, rather than the Colts.
There is a blue and white checked apron in a book of extent pieces from the period. The book is by either Sharon Burston or Linda Baumgartner, I can't remember which off the top of my head (This was one of the technical difficulties; I can't locate my copies of either book.). The apron has a two initial monogram, near the upper edge of the apron, worked in red. I used two strands of the red silk thread, left over from the wool petticoat project, to work the monogram. I placed it on the right hand edge of the apron because Lynn is left-handed and the threads should get less wear on that side. I also arranged the apron strings so that the shorter tie was on the left, which means that after crossing in the back, the apron will tie toward the right side. I wanted to avoid lumps in the center front and I've noticed that aprons tied to the side away from one's handedness are less apt to come untied through friction caused by normal work habits.
I went with a long length and a fair amount of fullness, for full coverage during work activities, as is fitting to the period and setting. I cut the fabric into panels and worked a fine rolled hem on the edges that would be joined together, then whipped them together. I did this to mimic how a wide apron would be made from the narrower widths typical of the period. I based the width on what I could have woven on my loom.
You can probably make out the pocket slit just to the rear of the ties. I am so happy to have this one done and all the bugs worked out. I have more of this linen to make another apron, this one for my niece, Shannon.
I meant to finally varnish my nails in stripes (I haven't bitten them to the quick in two weeks and, amazingly enough, I haven't broken any either. I hope I didn't just jinx myself.) but that was another technical problem. I couldn't even find my clear varnish, nevermind any colours. Oh well!
So here we go with the HSF details:
The Challenge: #6 Stripes
Fabric: ~59" wide, 7 oz, 100% linen, black warp with 1 thread white stripes spaced 5/8" apart/weft medium brown (could be obtained using walnut to dye). I loved that the fabric had some long floats from the weaving shed not fully opening in a few places. Others might consider this a flaw, but it is pretty common when using looms with thread heddles, so I'm calling it a plus for period accuracy. Fabric is from
www.wmboothdraper.com
Pattern: rectangle made from 3 panels- ~20" each, about 23" in length
Year: anytime between 1760-1790, possibly later
Notions: 35/2 unbleached linen and red silk quilting thread, 1/2" and 3/4" linen tapes, beeswax (all purchased from
www.wmboothdraper.com
and in my supplies). Linen threads for seaming and hemming were pulled from the warp and weft and used together, waxed.
How historically accurate is it? I'd give it a 9/10. I'd give it a 10/10 if the fabric had had good selvedges and a proper period width without cutting. I did mimic the construction method used for narrower goods. The color and stripes are documented for working class, and the monogram is also accurate for the period and class.
Hours to complete: Way too many. Quite a few hours were chewed up by hunting for thimbles, scissors and threads (Gizzy was far too busy whenever I got up, but it least she got some exercise.) and more were eaten up with roll-hemming the joining edges and whipping them together. If you only count the time for the rest of the construction (hems, tapes and monogram [leaving out the movie and research time]), I probably spent a total of 8 hours.
First worn: Lynn will wear it on April 20, 2013, at the Nathanael Greene Homestead, in Coventry, RI.
Total Cost: 1 yd linen fabric $14.00/yd = $14.00
1/2 yd 3/4" linen tape $1.90/yd .80
2 1/3 yd 1/2" linen tape $1.40/yd 3.27
threads from my supplies .00
Total: $18.07 + a whole lot of satisfaction = priceless
Have a sweet sleep and dream of fantastic sewing to come.