I've finished the design for my niece, Shannon's 1770's pockets, that will be worked in corded and stuffed quilting, with white work embroidery. The outer layer is a fine linen, backed with linen dimity and faced with same. Pocket back will probably by a striped linen in natural and half-bleached. Stitching will be with linen thread, the cording is a thick, loosely spun cotton yarn and the padding is carded wool.
pocket based on the design of a quilted stomacher in the VAM
shift weight 100% linen
dimity 100% linen for quilt backing and pocket slit facing.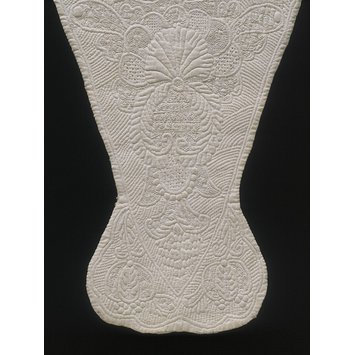 http://collections.vam.ac.uk/item/O137800/stomacher-unknown/